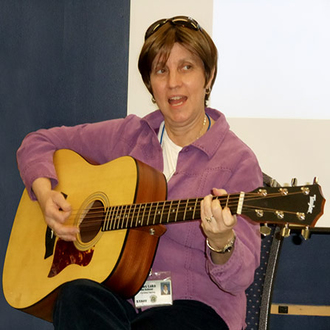 Prior to moving to Florida in 1997, Cynthia Haring completed her master's degree in Language, Reading and Culture at the University of Arizona in Tucson.  She previously lived in Parker, Arizona, within the Colorado River valley of the Mohave-Sonoran desert, where she taught English to Speakers of Other Languages (ESOL) and multicultural music and songwriting for the Parker Unified gifted program, and recorded/performed with her multicultural children's group, Parker World Nation from 1992-1996.
Cynthia is a native of Davenport, Iowa, who started her performance career tap dancing to "The Good Ship Lollipop" at the age of five.  She focused on writing poetry and songs in her teens.  In August 1976 she attended the Breadloaf Writer's Conference on a poetry scholarship.  Her early poetry publications include: "Time's Movement of Things" (Four Zoas, 1976); Iconysis: In Search of a Word (Four Zoas, 1977); "Poem in the Key of a Dancing Star;" and Songs for Solitude (Hibiscus Press, 1979), supported by an Illinois Arts Council grant.  Cynthia began performing her original songs at colleges, universities, and clubs and on TV/radio in the Midwest, followed by a tour of five clubs in New York City in 1980.  One reviewer stated that the appeal of Cynthia's original songs was "her poetic, heartfelt lyrics and memorable melodies, enriched by a penetrating, fresh vocal style and diverse musical accompaniment."
Cynthia taught ESOL and performed in Chicago, under the name of Destiny Quibble®, from 1981-1988.  While there, she produced three multi-media musical shows: Public Rehearsal No. 1 (1982), presented at the Noise Factory, and Illustrated Music (1983) and Planned Accidents (1985), presented at Randolph Street Gallery.  Cynthia released three recordings: Public Rehearsals (1982), an EP of four songs and three environments; "She Told Me" b/w "Face of the Clock" (1985), a 45 for Fever Records; and "Ohhaaa," a song created with Howard Kongsgaard, which was featured on WNUR radio's compilation, Heat From the Wind Chill Factory (1985).  She also composed music for theatrical productions: Facing the Prince (1987); Shakespeare's Titus Andronicus (1987) w/ co-composer Charles Wilding-White at the Organic Theater, for which they received a Jeffrey nomination; and Rituals (1988).  In the mid-1980s she was active in legalization of street performance in Chicago, with the assistance of attorney Rob Wynbrandt.  Her album, "The Life & Times of Destiny Quibble," a 29-year music retrospective of 19 original songs and two covers, was released in 2011.
Cynthia claims her true calling came in the fall of 1991, when she began performing with children through her multicultural music group, World Nation, first in Iowa and later in Illinois, Arizona, and Florida. This resulted in the release of two World Nation children's recordings.  Welcome to Our World, recorded in Chicago in 1992, with songs in nine languages and three original songs.  Songs of the Colorado River, recorded in Hollywood, California in 1995, includes songs in the tribal languages of the Colorado River Indian Tribes reservation - Hopi, Navajo, Chemehuevi, and Mohave - as well as Spanish, and seven songs written by Cynthia in English.  On these recordings she provides lead and harmony vocals and plays 12-string guitar, harmonium, and percussion.
From 1997-2002, Cynthia Haring produced and directed the Powell World Nation Singers of Hernando County, Florida.  The group performed for the 1999 Sunshine State TESOL Conference, art fairs, area schools, and local fundraising events to benefit children. These included the Dawn Center, which provides resources for abused mothers and children, and Everyday Blessings, a group home/adoption agency based in Tampa.
Cynthia's multicultural performance ensemble, World Nation, is the marriage of her music career and her experience teaching ESOL students of all ages from countries around the world for over 30 years.  Her interest in languages, culture, and world music has taken her to such diverse places as India, Peru, Puerto Rico, Mexico, China, and Singapore. Her first visit to India in 1988 marked the beginning of her study of Indian philosophy, music, meditation, and yoga.  For a number of years, Cynthia has studied classical Indian vocal music through the Pandit Jasraj School of Music in Tampa, Florida.  She visited Peru through her friendship with ESOL teacher/translator Katia Valdeos.  Inspired by the music of the Greatest Generation, Cynthia released "Cruisin in My Wagon: A Journey through Doo Wop, Pop and Swing" in May of 2013. Dedicated to her parents, Caryl and Earl Haring, the album features her children's music group, Tampa Bay World Nation.
"World Nation provides a positive, creative outlet for the energetic expression of young people of diverse cultural and musical backgrounds," Cynthia says. "What a blessing to have this great music reach people through the pure-hearted voices of children."