A Music Tribute to the Greatest Generation, featuring songs from the early 1900s to the 1960s, will be presented by singer/songwriter Cynthia Haring, and members of her Tampa Bay World Nation children's group as part of a 2014 nostalgia music tour.  Shows in Hernando County include Spring Hill Health & Rehab at 9:30 a.m. on Wednesday, March 19; Forest Oaks of Spring Hill at 6 p.m. on Thursday, April 3; Heartland of Brooksville at 2:30 p.m. on Saturday, April 12; Heron Pointe at 3 p.m. on Sunday, May 11 (Mother's Day); The Grande at 3:30 p.m. on Friday, June 6; a return to Forest Oaks at 6 p.m. on Tuesday, June 10; and a return to The Grande at 6 p.m. on Friday, August 22. Pasco County shows include Regency Residence at 2 p.m. on Saturday, May 3, and Bayonet Point Health & Rehab at 2 p.m. on Saturday, May 10. Admission is free, and open to the public.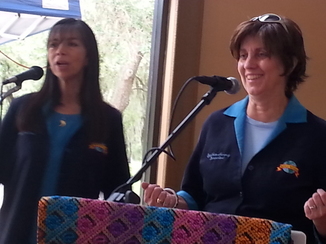 The Greatest Generation performances are being held in conjunction with the release of Haring's CD, "Cruisin' in My Wagon: A Journey through Doo Wop, Pop and Swing."  The recording is dedicated to her parents, and the album liner notes state that the CD is "a tribute to the great singers, musicians, and songwriters of the Greatest Generation who inspired a people, a nation, a world."
Among the special guests from Tampa Bay World Nation are singers Tad Andris, 12; Savannah Meier, 9; Lexi Burkley, 21; and teacher Katia Valdeos, along with percussionist Justin Bacchi, 17; and dancer Pollyanna Garcia of Spring Hill, who will open some shows with flamenco dance and the playing of castanets.  The song roster for the tribute includes "Oh You Beautiful Doll,"  "Mister Sandman," "Jeepers Creepers," "Blue Moon," "Lollipop," "Papa Oom Mow Mow," "Mountain of Love" and more.  Residents will hear Cynthia's father Earl Haring, 86, sing "I Don't Know Why (I Just Do)," the song that won his wife's heart over 60 years ago when they first met.
The 18-song "Cruisin' in My Wagon" CD can be purchased for $16 the day of the show or through CD Baby or iTunes via the group's website at: www.worldnationgroup.com.  CD proceeds will help to fund two World Nation recordings currently in production: a second nostalgia CD, "Walking in a Memory," and a world music CD, "School of Fish: World Music Explorations in 12 Languages."  For more information or bookings, call 352-686-7038.